Untapped Potential
Imagine a different world. One where a broken wheelchair isn't a barrier to independence and mobility. Where individuals don't have to wait weeks or months for repairs. Where the needs of wheelchair users are met with innovative solutions that are bridging the gap.

Unfortunately, that is not our world. The current systems in place for providing accessible mobility equipment are stagnant and antiquated. They often leave a gap of unmet needs. Amidst these challenges lies a remarkable opportunity. One where open source solutions (OSS) can not only compete, but revolutionize the market. In this blog post, we will explore the staggering statistics on wheelchair breakdowns, the limitations of existing systems, and show how OSS can fill the gap and improve the lives of millions.
The Market Failures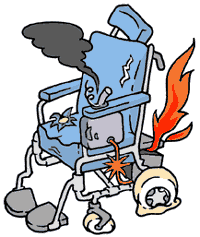 According to the North America Wheelchair Market Report 2021, the wheelchair market is expected to reach a staggering USD 1.7 billion by 2028, with a compound annual growth rate (CAGR) of 7.9%. This growth is driven by increasing demand for advanced, compact, and portable mobility aids and an expanding target population. However, persistent challenges continue to plague wheelchair users despite these promising numbers.

Wheelchair breakdowns are alarmingly common. Estimates suggest that 50% of wheelchairs break down within a typical six-month period. Among veterans, the number climbs even higher to 88%. These breakdowns are not mere inconveniences. They put individuals at an increased risk of medical complications and hospitalizations. Furthermore, once a breakdown occurs, the repair process is slow and cumbersome. Many users wait an average of two to four weeks for repairs, and tories of six-month or longer waits are not uncommon.

Several factors contribute to the frequent breakdowns and delayed repairs of wheelchairs. One factor is the lack of routine maintenance. This is often due to a lack of clear guidelines and support from insurance providers. Another challenge stems from the complexity of modern power wheelchairs. These systems require specialized knowledge and parts for repairs. Documentation requirements and limited parts inventory can further delay the repair process.

What Has Potential For Bridging The Gap?

Amidst these challenges, OSS has the potential to reimage the market and provide much-needed relief to wheelchair users. OSS initiatives leverage collaborative efforts and shared knowledge to develop innovative solutions. By embracing OSS principles, we can democratize the development and maintenance of mobility equipment . The end result are faster repairs and improved customization to individual needs.

OSS can address the limitations of existing systems in two significant ways. First, they can facilitate the sharing of repair knowledge and resources. This decentralized approach empowers users to maintain and fix their wheelchairs independently. It also reduces dependency on the limited number of repair companies. Overall, it provides for quicker and more accessible repairs.

Second, OSS designs promote the development of more durable and easily repairable wheelchairs. By making the designs open and accessible, a broader community of engineers, designers, and developers can enhance the quality and reliability of mobility equipment.

Today, "life as usual" for wheelchair users is "difficulty as usual." Frequent breakdowns, long repair times, and limited options are typical. Yet, the growing market and the need for innovative solutions create a fertile ground for OSS initiatives to thrive. By embracing OSS principles, we can foster a community-driven approach to mobility equipment, filling the gap of unmet needs and improving the lives of millions.

It is time to empower wheelchair users with OSS designs. We can offer them independence, reliability, and a higher quality of life. By bridging the gap between the fast-growing mobility equipment market and the stagnant repair systems, we can create a future where broken wheelchairs are no longer day-to-day obstacles in the pursuit of a fulfilling life.