Veterans and Mobility Equipment
The challenges faced by disabled veterans stand as a stark reminder of the unmet promises. Those who have served their country deserve better. "Wheelchairs of Broken Promises," featured by WBUR, delves into the personal stories of veterans. Their daily lives are marred by malfunctioning wheelchairs. These stories shed light on the distressing experiences of navigating a world built without accommodating their needs. Veterans Deserve Better.
The articles collectively emphasize a distressing reality: broken wheelchairs not only limit veterans' physical mobility but also impede their independence and overall quality of life. The issues at hand extend beyond mere inconveniences; they encapsulate a systemic failure that requires immediate attention and effective solutions. As the nation acknowledges the sacrifices of veterans, addressing these mobility challenges becomes an imperative step towards fulfilling the nation's commitment to their well-being.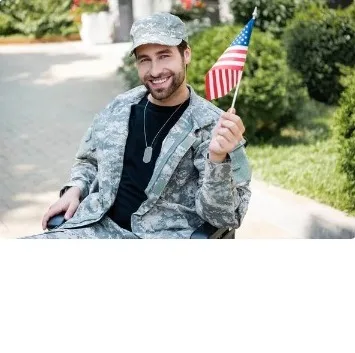 Challenges Faced by Veterans with Mobility Issues
The "Wheelchairs of Broken Promises" series by WBUR serves as a poignant collection of firsthand accounts, vividly illustrating the disheartening experiences of disabled veterans grappling with malfunctioning wheelchairs. These veterans, who have already sacrificed for their country, find themselves battling bureaucracy and technical difficulties, often left waiting for vital repairs that significantly impact their ability to navigate their surroundings with ease.
The VA's publication, an authoritative voice in the field, underlines the far-reaching consequences of inadequate wheelchair maintenance. It reveals that compromised mobility not only affects veterans' physical health but also their psychological well-being. The publication outlines how reduced mobility can lead to a decline in overall health due to decreased physical activity, increased isolation, and heightened dependence on others.
Investigative reports from Free Beacon and Disabled Veterans.org expose a disconcerting reality: disabled veterans face unreasonably long waits for wheelchair repairs within the VA system. These delays, lasting several months, portray a stark contrast to the timely and efficient care that veterans rightfully deserve. The articles underscore the urgency of addressing these systemic inefficiencies, highlighting the emotional toll and physical discomfort endured by veterans during these waiting periods.
The Role of Right to Repair Laws
Right to repair laws aim to empower consumers by granting them the ability to repair their own devices. These laws have gained traction as a response to the increasing complexity of modern devices. This often leads to restricted access to repairs. By demanding manufacturers provide necessary tools, information, and parts, these laws are designed to democratize repair processes. Effectively extending their benefits to veterans struggling with malfunctioning wheelchairs.
The articles collectively highlight how right to repair laws could positively impact the lives of disabled veterans. With access to repair resources, veterans could potentially troubleshoot and fix minor issues themselves, reducing their dependency on external repair services and minimizing the inconveniences caused by prolonged waits for VA repairs.
However, despite the implementation of the first-ever right to repair law, as reported by US News, the complexities of repairing wheelchairs present unique challenges. Wheelchair repairs demand a specialized skill set and equipment, making it more intricate than repairing consumer electronics. While the law's intention is admirable, the articles acknowledge that the repair landscape for mobility devices requires a tailored approach to ensure its effectiveness for disabled veterans.
Open-Source Solutions for Mobility Devices
Open-source solutions offer a promising avenue to address the challenges faced by veterans with mobility issues. In the context of mobility devices, "open source" refers to designs and software that are accessible, modifiable, and redistributable by anyone. This approach fosters collaboration and innovation, enabling communities to create customized solutions that cater to individual needs.
The articles suggest that open-source solutions could revolutionize the way veterans' mobility issues are tackled. By adopting open-source designs for mobility devices, veterans and experts alike can collaboratively improve and customize the devices, ensuring they meet specific requirements. This approach empowers veterans with agency over their mobility solutions, reducing their reliance on standardized, one-size-fits-all options.
Notable examples of successful open-source projects for mobility devices, though not explicitly mentioned in the provided articles, exist in the realm of assistive technology. Projects like the Open Wheelchair initiative demonstrate how the open-source approach has enabled the creation of affordable, customizable wheelchairs that can be adapted to individual preferences and needs. These initiatives highlight the potential for open-source solutions to transform the mobility landscape for disabled veterans.
Current State of Veterans Affairs and Wheelchair Repairs
The Department of Veterans Affairs (VA) plays a critical role in addressing veterans' mobility needs. However, as indicated in the articles, the VA faces significant challenges in providing timely and effective wheelchair repairs. Despite its efforts, the VA's system struggles to keep up with the demand for repairs, resulting in extended wait times for veterans in need.
The articles shed light on the limitations within the VA system, where bureaucratic hurdles and resource constraints contribute to delays in repairing mobility devices. These delays not only hinder veterans' mobility but also impact their overall well-being, potentially leading to avoidable health complications.
Case studies and personal accounts highlighted in the articles showcase veterans who have been left bedridden due to delays in wheelchair repairs. These stories underscore the urgent need for reform within the VA to ensure that veterans receive the care and support they deserve. The challenges faced by veterans with mobility issues highlight a systemic failure that demands a comprehensive and innovative approach to address the issue effectively.
The Intersection of Right to Repair and Veterans' Mobility
The intersection of right to repair laws and veterans' mobility issues presents an opportunity for meaningful change. Right to repair laws align with the principles of autonomy and empowerment that are crucial for disabled veterans. By giving veterans the means to repair and maintain their mobility devices, these laws can potentially restore a sense of control over their own lives.
The articles suggest that implementing right to repair laws specifically tailored to mobility devices could significantly benefit disabled veterans. Such laws would not only enable veterans to address minor issues promptly but could also reduce the strain on the VA system by decreasing the volume of repair requests.
Nevertheless, it's important to acknowledge the complexity of repairing mobility devices. The unique skill set and technical requirements for wheelchair repairs must be considered when crafting effective right to repair legislation. The articles caution against assuming a one-size-fits-all approach and emphasize the need for thoughtful, targeted solutions that genuinely alleviate the challenges faced by veterans with mobility issues.
Successful Implementation and Its Impact
The efforts to implement the right to repair laws and embrace open-source solutions have demonstrated their potential to reshape the landscape of veterans' mobility issues. Organizations like the Mobility Independence Foundation (MIF) play a vital role in driving change and providing practical solutions.
The MIF, as an advocate for open-source solutions and innovation, collaborates with disabled veterans and experts. This enables development of tailored open-source designs for mobility devices. By harnessing the collective expertise of the open-source community, the MIF could create innovative solutions that directly address the needs of disabled veterans.
The partnership between right to repair laws, open-source initiatives, and organizations like the MIF could lead to success stories where veterans are empowered to repair their own devices and access customized mobility solutions. These solutions not only enhance their quality of life but also contribute to reducing the burden on the VA system, ultimately benefiting all veterans in need.
Overcoming Challenges and Future Prospects
The Mobility Independence Foundation (MIF) and similar organizations offer promising solutions, challenges still exist in implementing the right to repair. Open-source initiatives for veterans' mobility can solve this. Crafting effective legislation that accommodates the unique intricacies of mobility devices requires careful consideration and collaboration among stakeholders.
The MIF's expertise in open-source solutions could pave the way for pilot programs and collaborations with the VA. Such partnerships could serve as a testing ground for innovative mobility device designs and repair approaches. This will help ensure that veterans receive the best possible care.
The prospects for veterans' mobility hinge on the dedication of organizations like The MIF. We can make real change along with the support of policymakers, the medical community, and the public. Rallying around the cause of enhancing veterans' mobility, we can collectively drive change. That and only that will reflect our nation's gratitude and respect for those who have served.
Conclusion: Veterans Deserve Better
Addressing veterans' mobility issues through open-source solutions reflects the resilience and commitment of our society. That promise we made to honor and support those who have served.
Exploring the challenges faced by disabled veterans in maintaining functional mobility devices, we've witnessed the potential for change. The right to repair laws and open-source initiatives offer practical ways to empower veterans. This will lead to granting them the tools and autonomy they deserve.
Recognizing the importance of timely repairs and accessible solutions, we take a step towards reshaping the narrative of veterans' struggles. We work towards a future where broken wheelchairs no longer stand as symbols of broken promises. We invite readers to join the collective effort. Help us to transform veterans' mobility challenges into stories of triumph, innovation, and unwavering support.
Our Veterans Deserve Better Donate Now
More than five million Americans use wheelchairs. Getting one repaired is hard.
Requirements Regarding Mobility Devices and Aids
Despite a First-Ever 'Right-to-Repair' Law, There's No Easy Fix for Wheelchair Users